Another day and another small advancement. Today I felt like doing some drawing. Did a bunch of on unit icons to be used in statistics, house info and map editor menus: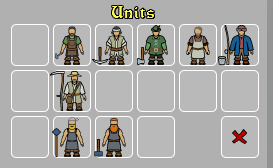 As you can see before that it was quite impossible to distinguish between units. Now at least half of them have icons. Test – can you guess who is who? 😉
The icons are made in vector and downscaled (much alike described in this article). Hopefully those icons won't stay like so for too long and will become much better.