Just as planned – are all wares icons done. So far they are just preliminary sketches, but some are already looking nice. Proceed inside!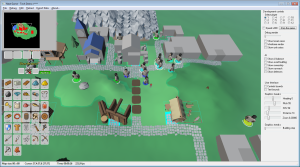 At the moment they are pretty raw. Games style may change during later development, so it is better to have such sketches instead of full-quality art. Sketches are relatively quick to make and they can be tweaked and improved upon demand, besides, it's no big deal to scrap a few if they don't fit into the game. With full-quality art that is not so easy 🙂
My favorites so far are Mace, Horse and Cow Skin icons. What are yours?