I've been thinking about organizing troops in NextGame. This post is a snapshot of my thoughts, incomplete and fragmented, so please allow enough room for later changes and details to be added.
Firstly we would want to keep the Rock-Paper-Scissors principle, so that each troop type has a weakness and an advantage. Secondly we want to keep tiers – that is different levels of troops.
Classic troop types don't need much introduction:
Melee. Cheap universal warriors with no special traits. Cannon fodder. Medium attack and average defense.
Ranged. Powerful distance attack when in numbers, but defenseless in close fight. Need careful management and protection from enemy fighters.
Scouts. Fast mounted units, meant for flanking maneuvers. Their strength is in their speed.
Pikes. Good anti-horse troops. High attack, but weak defense.
They form a nice RPS rectangle, where each element has strong and weak opponents: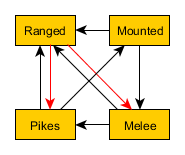 * red arrows represent advantage with proper management (with defense from hand-to-hand combat)
For completeness sake let's add additional types of military objects that compliment the RPS described above:
Siege equipment. Powerful, but slow and good only against houses.
Stationary defenses (towers).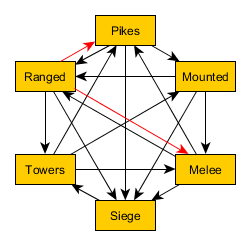 Ranged and Siege are natural enemies of the towers.
We want to let players have armies early on. They might be weak, but would allow to reduce the "peace time" and make the game more diverse. So for example players need to balance between investing into quick and weak armies, or hold on till strong armies are available.
Three tiers of troops naturally form up:
Rebels. Weak defenseless units available early on. Their main use is for scouting and early game harassment.
Armored. Average fighters. Well balanced town produces required materials for them as bi-product of kettle and wood production.
Steel. Strongest and most expensive units that need dedicated production chains.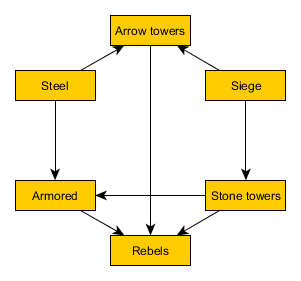 Following military assets are also available to the player:
Arrow towers. Unlocked early on. Good against rebels, but less efficient against armored units. Almost no threat to steel troops. Require no supplies. Medium range. Maybe unconnected from roads?
Stone towers. Main defense structure later in the game. Require stones for operation and be connected with roads.
Siege weapons (catapults). Anti-Tower units.
Now about training. Last time we have reached this diagram:
As shown on the tech tree, we can make the military encampment upgradeable. We are not sure that will work out, but we can give it a try I guess )
The plan is to have Rebel Camp as early as possible and maybe allow to hire units directly there, without use of School. Training Grounds provide second tier and should be available once town has Tannery functional. Barracks require steel industry.