Due to lack of time and small number of maps sent in, competition is prolonged till next week – 30 Dec!
Winter is coming along with Alpha 10 of the Knights Province! Let's celebrate this with a competition! Task is simple – create an addon map for the game using built-in map editor (and optionally, dynamic scripts). Submit the map until December 23rd 30th. Await for results and get your prize soon after.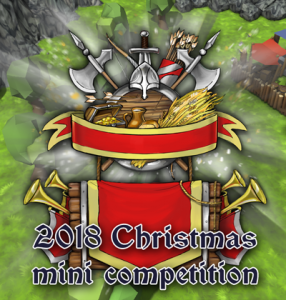 Participation rules:
New single-player map (can have support for upcoming skirmish/coop play)

Created in Alpha 10 wip (latest version available on Discord #new_versions)

Meet basic quality standards and be playable

Size M+ and any player count

Can be several maps per participant, but only one best one is competing for the prize

Jury members can participate, but are not eligible for 1st and 2nd place prizes

Best maps will be included into the game (for that you will need to write explicit permission, giving map away under CC BY SA)

Any map can be disqualified for undisclosed reasons by anonymous jury's decision

Submit to

kromster80@gmail.com

or Discord #general_eng until midnight December 22nd 29th CET
Judging will be starting on December 23rd
Each map will be judged by the jury (DarkianMaker, Krom, Lewin, Maps, Thibmo). Map with the most points – wins. Points will be awarded in the following categories:
Visually pleasing design (up to 10 points)

Gameplay (up to 5 points)

Detalization (map objects, emitters, etc.) (up to 5 points)

Quest elements (dynamic script) (up to 5 points)

NewYear/Christmas references (up to 3 points)

Support for skirmish/coop play (up to 5 points)
Prizes are:
Scores 20 and above – small Steam game from community member Dah. Mention on the games website

3rd place, small Steam game, mapmakers role on Discord channel

2nd place, small Steam game, mapmakers role, Steam game of your choice (up to 15$ or equivalent)

1st place, small Steam game, mapmakers role, Steam game of your choice (up to 25$ or equivalent), attribution in map description as mini-contest winner
FAQ
Feel free to ask for clarifications, they will be answered here.