All Knights Province units need food to eat (well, except machines and animals). Otherwise they die of hunger. So dedicating a large portion of town to a food production is a good thing. But how much food is needed anyway? Let's look into how much units eat: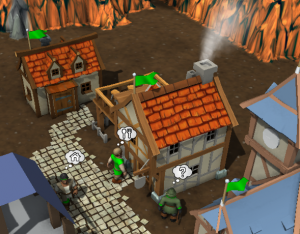 Warriors can not leave their duty, so they get their food delivered by serf, which gets picked randomly in Camp/Store and tops warrior's condition to 100%.
When citizen get hungry, they come to nearest Tavern that has free places inside (each Tavern can fit only 6 units at once). Typically when unit comes to Tavern he is at 13% full. When inside, unit will eat food in order it is listed in the Tavern until being 90% full.
I've been asked several times about food values for citizen, so here's a small chart:
Fish – 0.5

Cider – 0.3
Bread – 0.4
Sausages – 0.6
Ale – 0.3
Please note, that above values are subject to change and should be considered correct only for current Alpha 9.1. In upcoming Alpha 10 values will be tweaked to:
Fish – 0.4

Cider – 0.2
Bread – 0.4
Sausages – 0.6
Ale – 0.3
So for example, in well stocked Tavern, unit will eat Fish+Cider+Bread and walk out, keeping Sausages and Ale intact.