"Live Progress" posts were meant to come out every 1-2 weeks. Progress is slower these weeks because of real-life changes I'm going through, so now I'm trying to catch up with the schedule. To the facts!
I've been refactoring menus to allow for simpler management and layout changes, including background images. Thanks to Natalie's talents, we now have our first sexy menu background: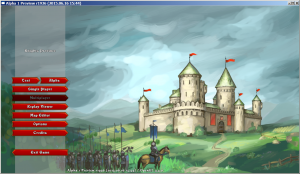 It is still a sketch, but it improves the feel of the game in the menus tenfold!
House building supplies are now rendered on the building sites: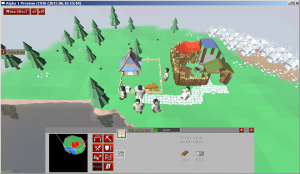 Supplies layout is the same for all the houses, but each house can have them positioned differently. The neat thing, is that the game reuses same wares models for all occasions – house supplies/production in houses, serfs carrying, building supply.
Jery is working on in-game objectives display. Those are handy short notes on the side that tell you what needs to be done to win the mission. Kind of like RPG quests – main and additional. This should make winning conditions much more clear: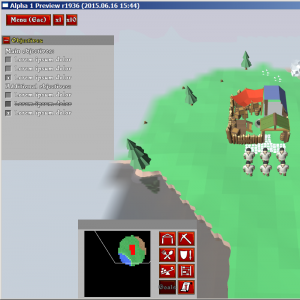 Still work in progress, the graphics and layout will surely change later on. Objectives display is purely GUI thing and should be updated from the dynamic script. The script will be responsible for objectives logic. For multiplayer and mapmakers who do not want to dive into scripting – standard goals will create standard objectives as well.
Finally, Alpha plans are likely to slip on to the next month, due to me being so very busy with real-life stuff.