Revisiting icons – tweaked some old ones and made some new ones:
Wood ware icon got a deeper shade, new repair icon (might be used for Build menu instead?), and a Quarry icon (might add a stone to the left corner). Icons are scaled x2 from the actual size for preview purposes.
Made a placeholder walking rig for the bowman:
I'm planning the bow to remain that simple. Next tier bowman will have a much better one (probably a long-bow?). Quiver obviously needs more work and some arrows inside.
Tileset keeps on bringing trouble. First there was a hard to track typo in the code, next it's the edge conditions I'm debugging which once again require to rewrite some code because there are more conditions affecting it than I had expected. Alongside this funny screen has emerged: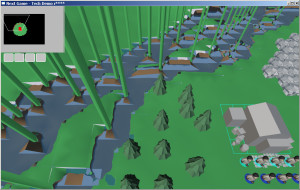 And number of ingame fixes as usual