Alpha 9 will have the following major features:
Aggressive animals
Early army
Warriors morale
Let's see how they work!
Aggressive animals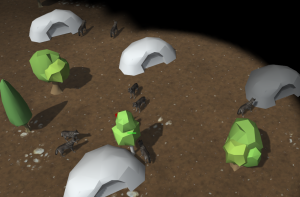 Wolves, bears and boars will now attack all nearby units within some range. Wolves and Bears also got special spawning house – Den. It will spawn new animals until destroyed. Animals spawned from den will wander within certain radius (attacking anyone passing by) and "guard" in smaller radius (running to attack anyone approaching).
Animals and dens can be placed and configured via built-in Map Editor.
So now, animals are a real threat for citizens working in the field and for advancing armies. This can be seen in Horseshoe – 1vs1 map, designed around wolves obstacle in between 2 players.
Early army
Soldiers can be trained from the first second now. Militia training was moved to Camp. Cost of training is 1 Blank (who will leave his Cottage upon completion) and 1 Club. Clubs can be made later in the game in Weapons Workshop at a cost of 1 Wood. Typical Camp will have a dozen of clubs at the start, allowing player to hire Militia for exploring and self-defense, but not enough for full-scale offense operation (more on that in Morale section).
Along with Militia, now Camps can train Serfs and Builders (they cost only 1 Blank).
Warriors morale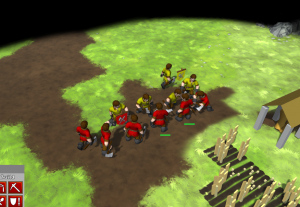 Warriors attack strength now depends on their class and proximity to their (or any allied) town. Militia has lowest morale strength – only 15%. This means that it will fight at full strength within it's town borders and only at 15% strength when far from the town (e.g. in enemy town). Better warriors have stronger morale (which goes all the way up to 100%). This means, that for example 2 enemy militia can be easily beaten by just one defending unit.
I want the system to be stateless – that is given static setup (units/houses placement) morale should always be the same, regardless of previous/next system state. In other words, if you see a screenshot you can calculate everyone's morale without knowing what happened before.
The factors at play are:
proximity to own houses is the best and strongest factor
proximity to enemy houses lowers morale
allied houses are also counted (after all we want to encourage allied help)
campfires should boost morale as well (so they play a bigger role as outposts)
Here are some results of 100 test runs. First number is defenders count in their own town, second is approaching enemies. Tests were made with 2 and with 10 defenders to find out equivalent number of attackers:
Militia: 2/4 10/41
Axeman: 2/3 10/18
Swordsman: 2/2 10/11
All these features are aimed at making early game more engaging.