I'm a bit lazy to write news, but the coding and drawing goes on. Want to see some GUI improvements – proceed inside:
So this is how GUI looks right now: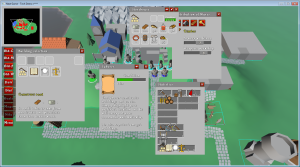 What has changed:
Menu buttons got reorganized. Now there are 4 big build buttons (Core, Materials, Food, Warfare), Distribution, Statistics, Mission Goals, Messages, Notification, Menu.
Clicking the house opens it's panel right above it and it stays above the house;
Clicking unit opens it panel, but I plan to make it static someplace on the screen;
Panels can be moved around;
Panels are not restricted on their size, e.g. Statistics panel now can become really big and detailed, alike game results menu;
I'm still writing the codes for that, so exact panels behavior will change in future. E.g. docking might be added, resizing, etc. Some panels may become immovable (build ones?)
And of course I was busy drawing number GUI icons, that are templates, but nevertheless they help to move things forward.
P.S. As always, your comments and support are greatly welcome!