NextGame has got some growing pine trees today.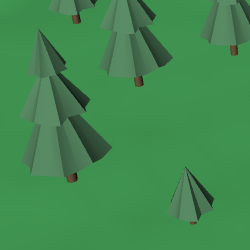 This was not a small bit, here's why:
MapObjects format is largely reworked and now each tree knows what it will become on the next age step and how long that would take. Also it knows which terrain types it prefers (e.g. grass and dirt for pines, but sand for palms). The way growing trees are managed is changed too, now they are all written in a list and their ages increased from there (instead of iterating over a whole map, checking each and every object if it is a tree and if it should become bigger).
Connected to that there's a very raw woodcutters hut sketch. Someone has to live somewhere to plant and cut those trees, right? I figure that we will need a woodcutter irregardless of tech tree changes 😉
On the screenshot you might as well see all 4 pines ages – 1/2/3 sections and a stump.